BRAIDED HOSES & BRAKE FLUID
Why not enhance your upgrade even further with the use of our handmade braided hoses and specially formulated Roadrace brake fluid?
TAROX RoadRace brake fluid is designed to offer the best of both worlds: outstanding performance under racing conditions yet suitable for every day use.
Our brake lines are manfuactured by hand using the finest quality European materials
TAROX lines give a firmer, more immediate pedal by reducing flex
Our brake lines have the ability to withstand corrosion and degradation in harsh conditions
Our fluid's high boiling point of over 300°C makes it ideal for virtually every race condition
TAROX Roadrace fluid delivers equally well on the road and is suitable for every day use
How does TAROX RoadRace compare with DOT 4 and DOT 5.1 fluids?
TAROX RoadRace meets and exceeds the current DOT 4 specification, which covers a huge range of brake fluids with widely differing properties. DOT 4 brake fluid boiling points, for example, will range from a minimum of 230°C to over 300°C like TAROX RoadRace. DOT 5.1 fluids are not designed to have particularly high boiling points – around 270°C being typical. Their main advantage is improved low-temperature viscosity which is only relevant in very cold climates where vehicles are using ESP systems. This means that they are fluids designed for road use rather than track use. TAROX RoadRace is a much better track/road compromise than a DOT 5.1 – boiling point being a far bigger problem on the track, than low temperature viscosity is on the roads.
Why is it road legal?
TAROX RoadRace brake fluid is road legal in the United States and Canada because it meets the requirements of the FMVSS 116 DOT 4 standard. It is also legal for road use in Spain because it meets the requirements of the UNE 26-109-88. The USA, Canada and Spain are almost unique in specifying minimum performance requirements for brake fluids that are to be used on public roads. Most other countries take the view that the product must be fit for the purpose, which is demonstrated by conformance to the main brake fluid standards. Most vehicle manufacturers in Europe recommend brake fluids that conform to DOT 4.
What is the recommended service interval?
When TAROX RoadRace brake fluid is being used on the road, it is advised to keep following manufacturers' recommended change times and obtain the benefit of the extra safety margin provided.
What about the usage in race conditions?
For best results, bleed the system with fresh fluid before each race, especially if the brakes are excessively hot and/or the conditions are humid. Do not mix with other brake fluids.
When is TAROX RoadRace brake fluid not recommended?
Firstly, it cannot be used for those vehicles requiring a mineral based fluid (LHM). Secondly, it is not recommended for older classic cars produced before 1970. Even here in almost all cases the product can be used perfectly satisfactorily but a very few older cars (especially in the United States) used seals which can perform poorly with high-performance fluid such as TAROX RoadRace. A high boiling DOT 3 fluid is usually more appropriate in these cases.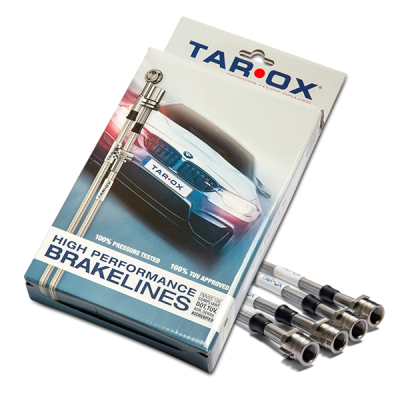 •

BRAIDED HOSES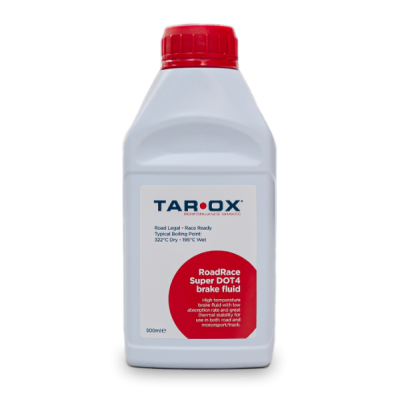 •

ROADRACE BRAKE FLUID
BRAIDED HOSES
Our braided brake hoses are manufactured by hand and like all products in the TAROX range they're produced from the finest quality European materials.
Constructed from the highest quality PTFE flexible hose and stainless steel over braid both protected by a weather resistant PVC outer coating. All TAROX braided lines feature fully swaged stainless steel fittings and anti-whip collars to provide years of reliable performance. Each kit is designed to be a direct replacement for the OE parts and tailored specifically for each application. They include any necessary fittings required for fitting and come with a lifetime warranty for the original purchaser.
Following construction, every single TAROX braided hose is individually pressure tested to ensure high performance and longevity.
Upgrading to braided brake hoses will provide you with a firmer pedal by reducing the amount of flex compared to a standard rubber hose. This results in a more immediate pedal response which is ideal for spirited driving and track use. Our hoses are compatible with both DOT4 and DOT5.1 specification fluids and our application list spans over 750 vehicles.
Accreditations & Approvals
FMVSS 106 (Federal Motor Vehicle Safety Standards)
TÜV (Germany)
DOT (USA Department of Transport)
ADR (Australian DOT)
DEKRA
For the finishing touch, use with TAROX RoadRace brake fluid to maximise your vehicles braking system performance.
We recommend only qualified persons carry out servicing work on safety critical vehicle systems such as brakes. Improper fitting and/or adjustment could lead to brake pressure loss or even complete brake failure. If the below search returns no results please get in touch with your requirements.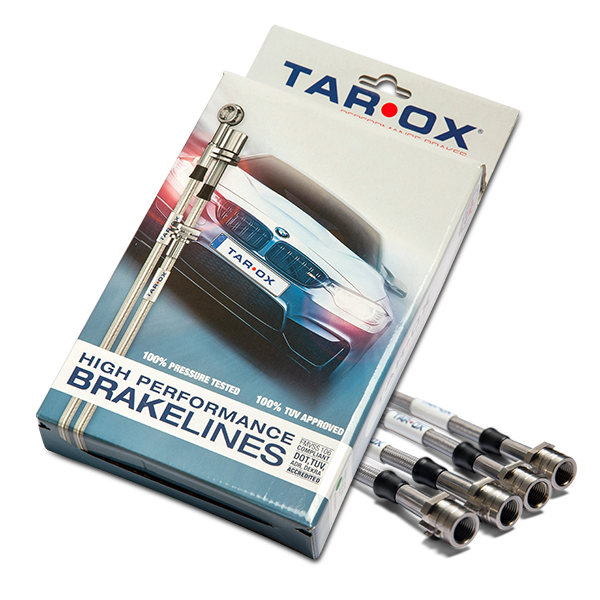 ROADRACE BRAKE FLUID
Race bred – Road legal
TAROX RoadRace brake fluid has been specially formulated to offer the best of both worlds: it delivers outstanding performance under racing conditions where braking systems must operate at very high temperatures, yet it is suitable for every day use where it is essential that a brake fluid conforms to the requirements of car manufacturers. Its high boiling point in excess of 300°C makes it ideal for virtually every race condition.
Conforms and exceeds industry specifications
UNE 26-109-88
U.S. FMVSS No.116 DOT 4
Typical dry boiling point – 322ºC
Typical wet boiling point – 195ºC
Not suitable for vehicles requiring a mineral based fluid (LHM).
If in doubt, consult your vehicle handbook.