Fluid Fact Check
Following on from our original RoadRace high performance brake fluid comes V2! An all new recipe closing the gap even further between a manufacturer approved road legal DOT4 fluid and one ready to take on the toughest race. But what actually is a DOT4 fluid I hear you cry, and isn't DOT5.1 best for racing!? Well fear not! we have want to debunk some of myths and decipher the common terminology around brake fluid. After all  it is one of the cheapest and quickest ways of getting better brake performance.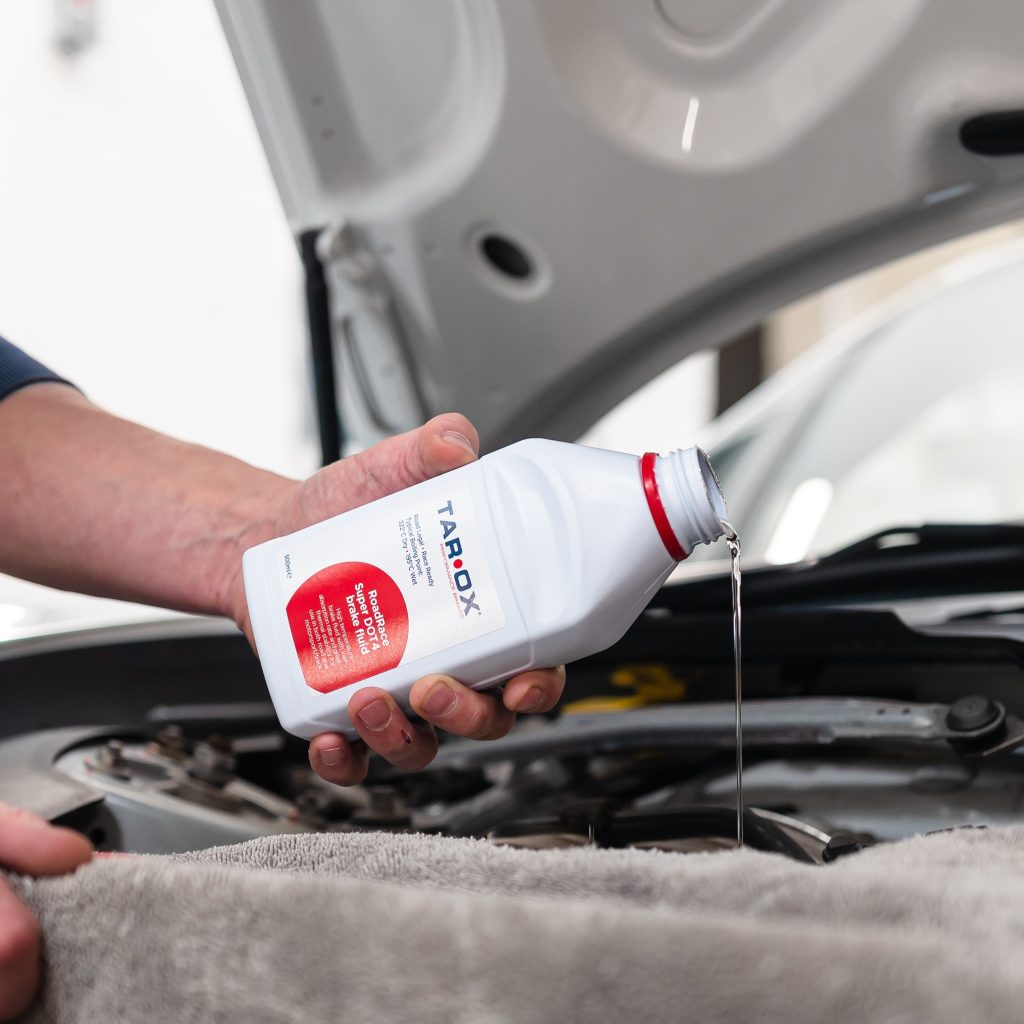 How does TAROX RoadRace compare with DOT 4 and DOT 5.1 fluids?
TAROX RoadRace meets and exceeds the current DOT 4 specification, which covers a huge range of brake fluids with widely differing properties. DOT 4 brake fluid boiling points, for example, will range from a minimum of 230°C to over 300°C like TAROX RoadRace. DOT 5.1 fluids are not designed to have particularly high boiling points – around 270°C being typical. Their main advantage is improved low-temperature viscosity which is only relevant in very cold climates where vehicles are using ESP systems. This means that they are fluids designed for road use rather than track use. TAROX RoadRace is a much better track/road compromise than a DOT 5.1 – boiling point being a far bigger problem on the track, than low temperature viscosity is on the roads.
Wet or Dry?
You will usually always see 2 values in the specification of brake fluid. The first is dry boiling point, the other being the wet boiling point. Dry refers to when the fluid is supplied. The figure you should expect with a fresh fluid change. The wet figure is a figure modelled on 3% water absorption, which is what is estimated after a year's use. The wet figure is always much lower as moisture in the fluid severely reduces performance.
Why is it road legal?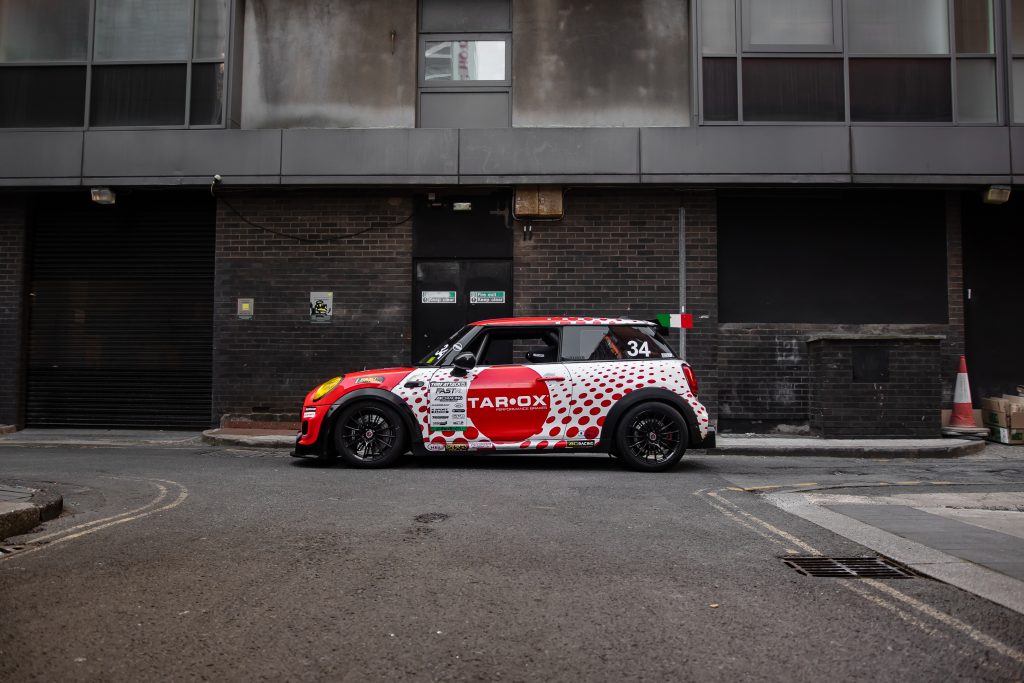 TAROX RoadRace brake fluid is road legal in the United States and Canada because it meets the requirements of the FMVSS 116 DOT 4 standard. It is also legal for road use in Spain because it meets the requirements of the UNE 26-109-88. The USA, Canada and Spain are almost unique in specifying minimum performance requirements for brake fluids that are to be used on public roads. Most other countries take the view that the product must be fit for the purpose, which is demonstrated by conformance to the main brake fluid standards. Most vehicle manufacturers in Europe recommend brake fluids that conform to DOT 4.
What is the recommended service interval?
When TAROX RoadRace brake fluid is being used on the road, it is advised to keep following manufacturers' recommended change times and obtain the benefit of the extra safety margin provided.
What about the usage in race conditions?
For best results, bleed the system with fresh fluid before each race, especially if the brakes are excessively hot and/or the conditions are humid. Do not mix with other brake fluids. New brake fluid is always the best solution in race conditions. TAROX RoadRace high performance brake fluid is designed to have a low hygroscopic value which is essential in reducing vapour when used in extreme conditions. This combined with our high compressibility gives the driver a firm pedal ensuing confidence in the brakes lap after lap.
When is TAROX RoadRace brake fluid not recommended?
Firstly, it cannot be used for those vehicles requiring a mineral based fluid (LHM). Secondly, it is not recommended for older classic cars produced before 1970. Even here in almost all cases the product can be used perfectly satisfactorily but a very few older cars (especially in the United States) used seals which can perform poorly with high-performance fluid such as TAROX RoadRace. A high boiling DOT 3 fluid is usually more appropriate in these cases.
Specifications
This latest development has an even higher boiling point and improved compressibility for improved performance when the brake system is being pushed. Safe and legal for road users, ideal for track use.
Dry boiling point 322°C
Wet boiling point 195°C
Road legal
Suitable for all vehicles requiring DOT4 specification fluid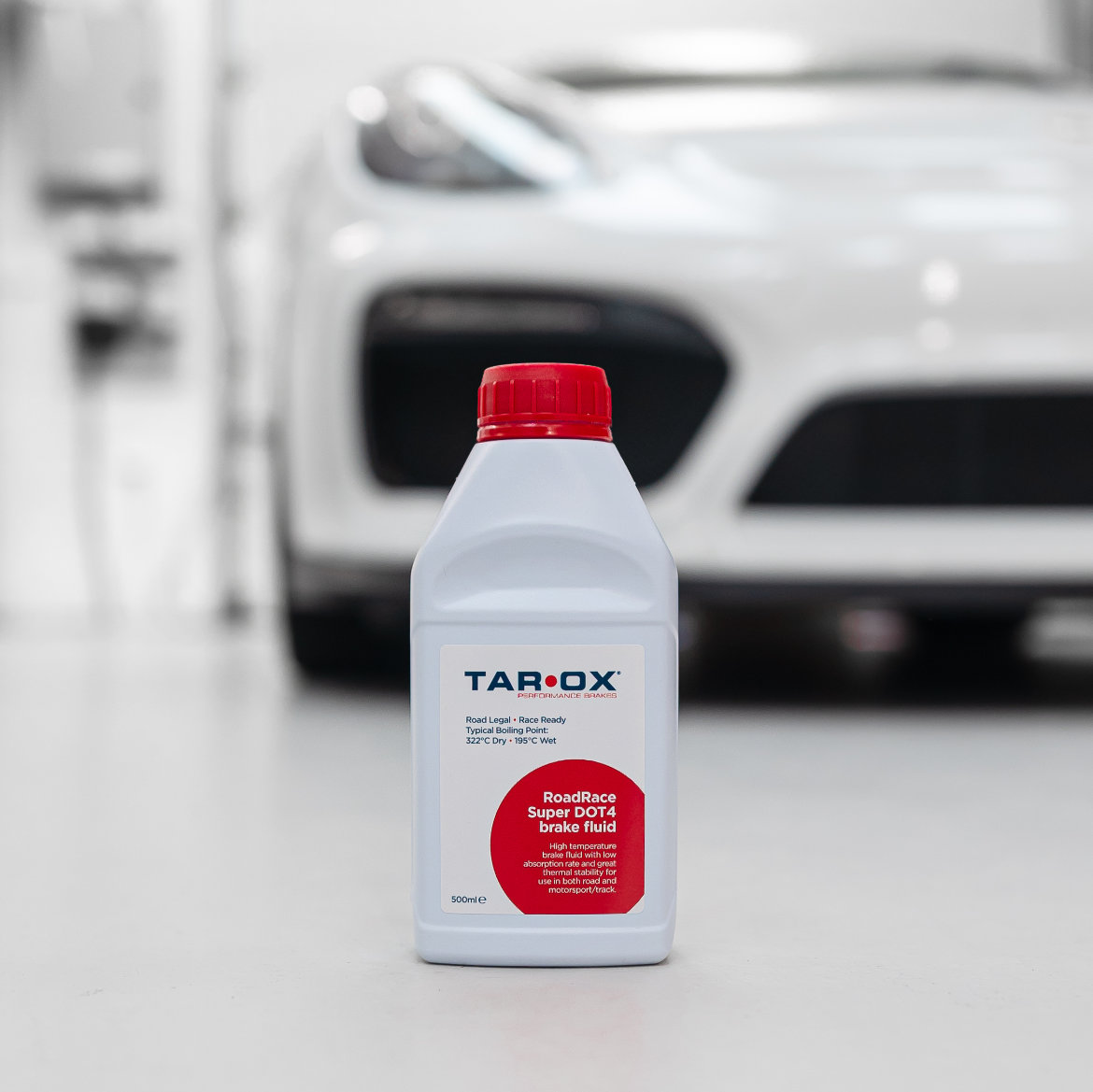 Price and Availability
Part number: RoadRace
RRP: £15/€20 +VAT per bottle
500ml bottles sold in cases of 12
As per the previous TAROX RoadRace fluid, the new product conforms to and exceeds the current international specifications U.S. FMVSS No.116, DOT5.1, DOT3, DOT4, SAE J1704 & ISO 4925.
Please sell through your existing stocks of the previous black bottled fluid before selling the new product.
This tasty new fluid is available at retail in 500ml bottles or to trade in cases of 12 x 500ml.
Click right here to get your hands on a bottle. Please drink responsibly.  www.drinkaware.co.uk for the facts*
*Seriously, brake fluid is not for human consumption, but your car will love it.