A unique kit for a unique vehicle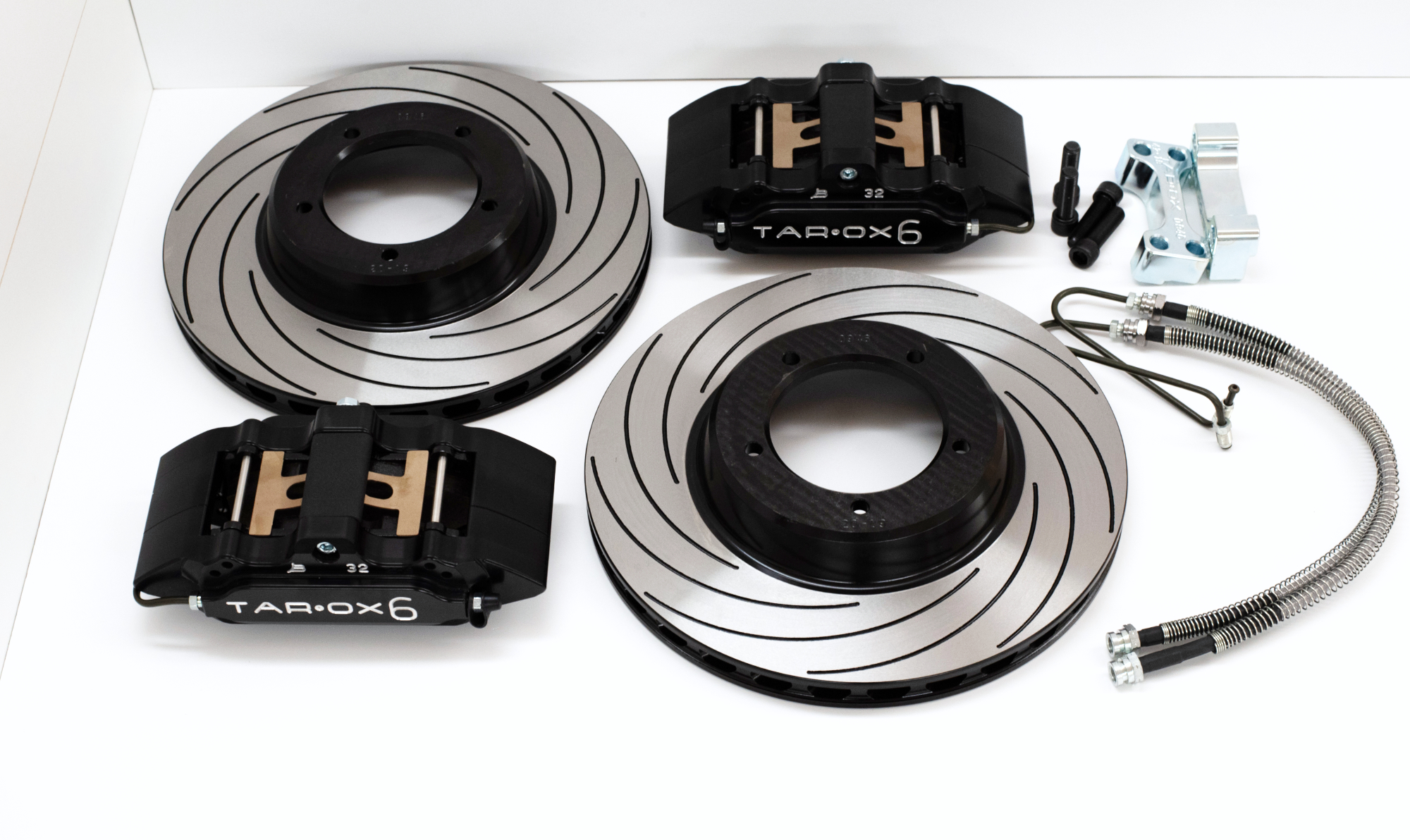 We cannot really say much about the conception of the kit which was originally developed 10 years ago, but it had a very specific remit; Brake vehicles weighing more than a regular defender, where they would be subject to all types of brutal terrain and conditions. The kit had not only be weather proof but super tough, tough enough to withstand impacts and also be as low maintained as possible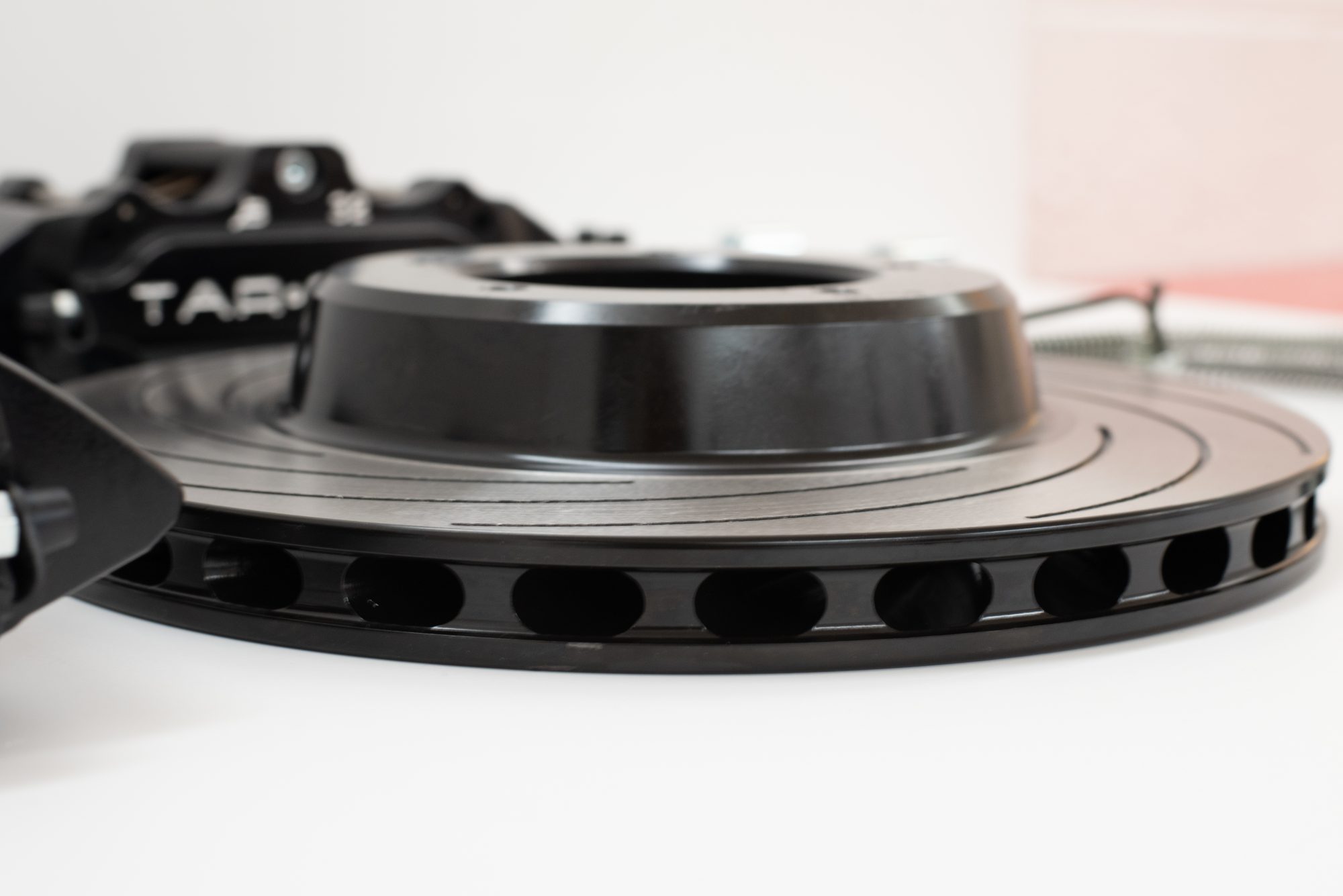 Discs: 325mm one piece F2000 style recommended
Manufactured from sliced billets of our own specially formulated steel which is not only much stronger than cast iron due to its unified structure it offers a us design and production flexibility.
Long sessions of thermal treatment gradually strengthen the metal and heat cycle the disc in preparation for use, this massively reduces the chances of warping when fitted.
Final finishing, another unique to TAROX process all our discs receive a balance using a polishing technique which ensures a perfectly flat surface (0.015mm) providing the perfect environment for brake pad bedding in while also showing off a very beautiful engineered finish. https://www.tarox.com/en/tarox-discs-a-unique-braking-surface/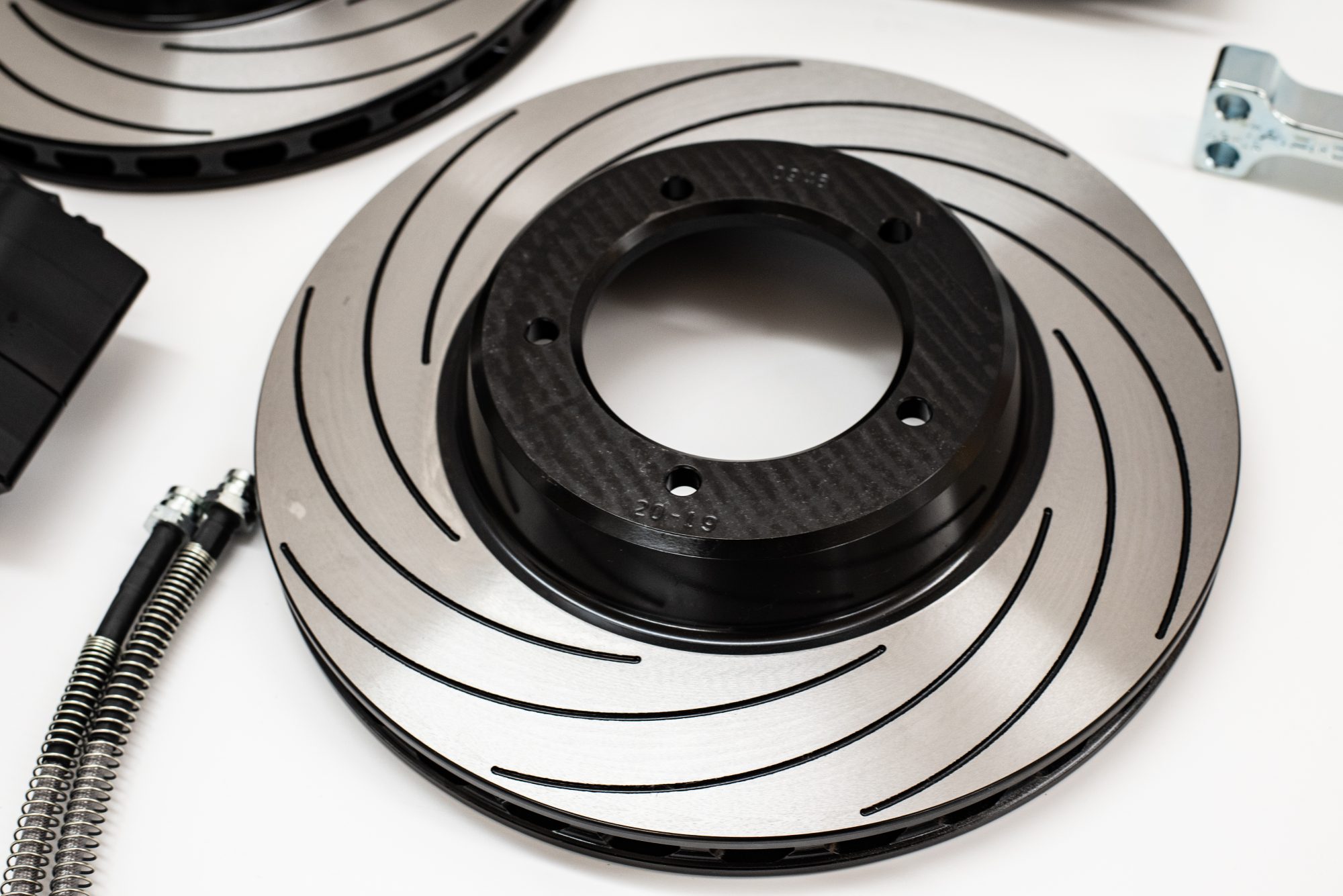 Individually machined internal ventilation channels curved with a venturi designed to improve heat dissipation. The black finish is called Cataforesi. An incredibly durable automotive finishing used by all major OEM's to ensure resilience to all weather conditions protecting the disc internally and externally.
Calipers: B32 6 piston (31-34-31)
CNC'd two piece billet alloy construction hand assembled and pressure tested before boxing
Anodised finish retains the beautiful engineering details as well as providing excellent protection without fading from excessive heat– black and grey are hard anodised coloured calipers are not.
Hard anodised alloy pistons featuring a double O-ring internal seal making the calipers extremely resilient to all climates and unaffected by dust and dirt
Stainless steel replaceable rollers on which the brake pad slides eliminating caliper wear and ensuring perfect pad fitting tolerances throughout the life of the kit.
Quick and easy pad change via stainless steel sliding pins which drift without the use out a fastening. These also incorporate pad anti-rattle springs.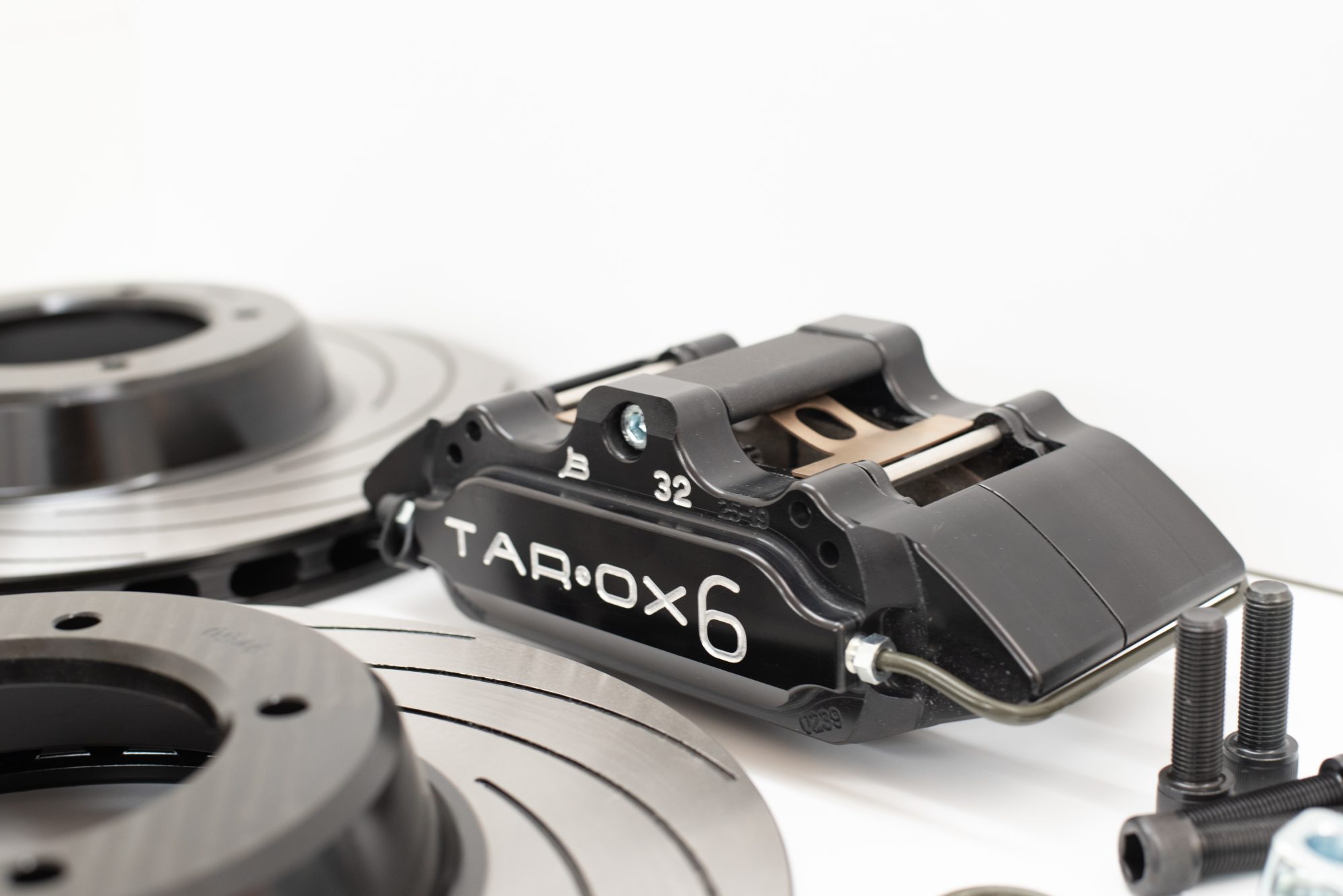 Specific brake hoses with custom ends both on the caliper and hose. This is more secure OE style female to mail transfer rather than the banjo system commonly used on racing calipers. All fittings where possible are stainless with the lines manufactured from the highest quality PTFE before a stainless braid is covered in a hard wearing PVC outer.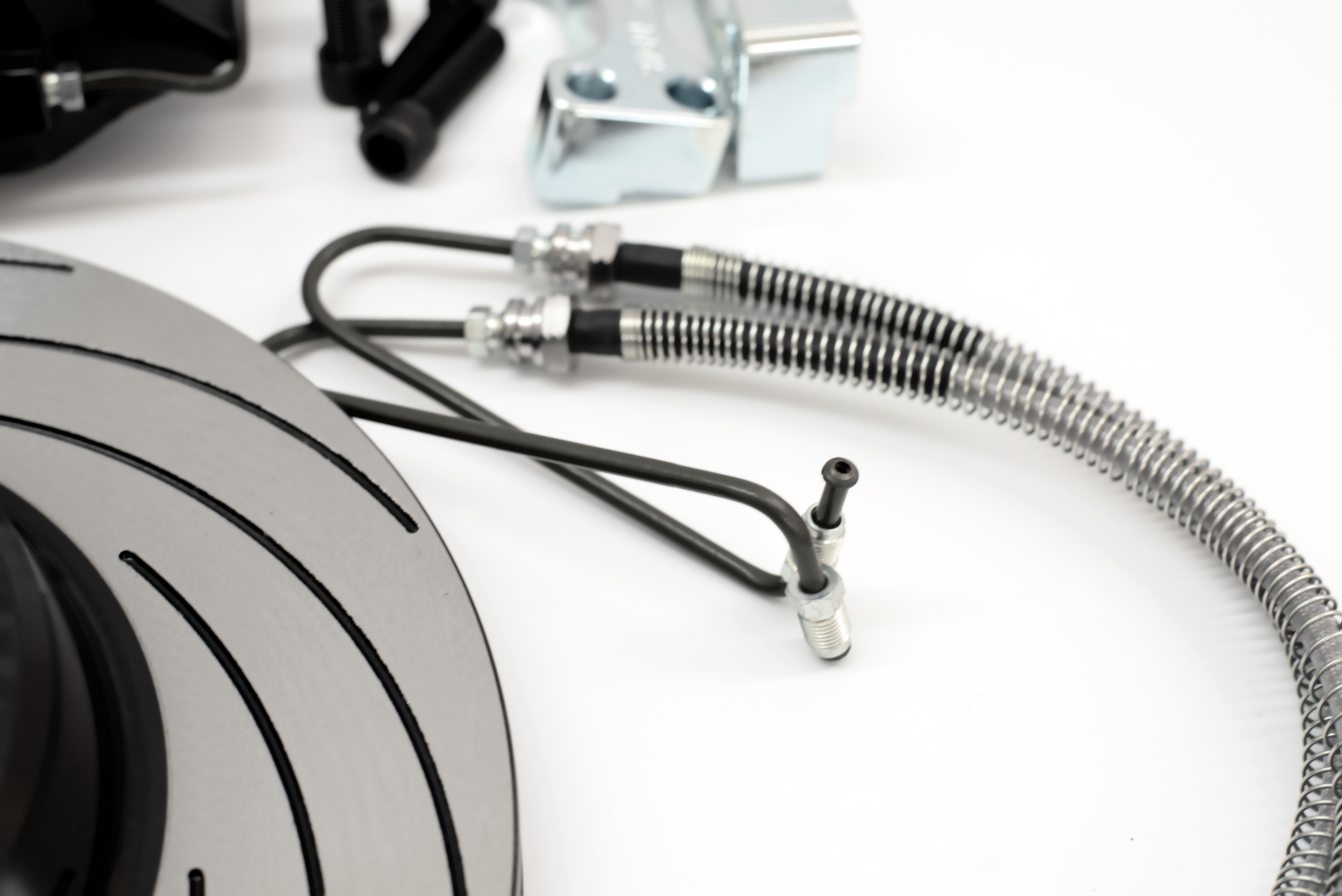 Another change from a typical TAROX brake conversion is the use of a steel bracket – as with the disc avoiding usual ergal alloy for more robust steel. The bracket is machined from a steel billet then plated to protect against the elements.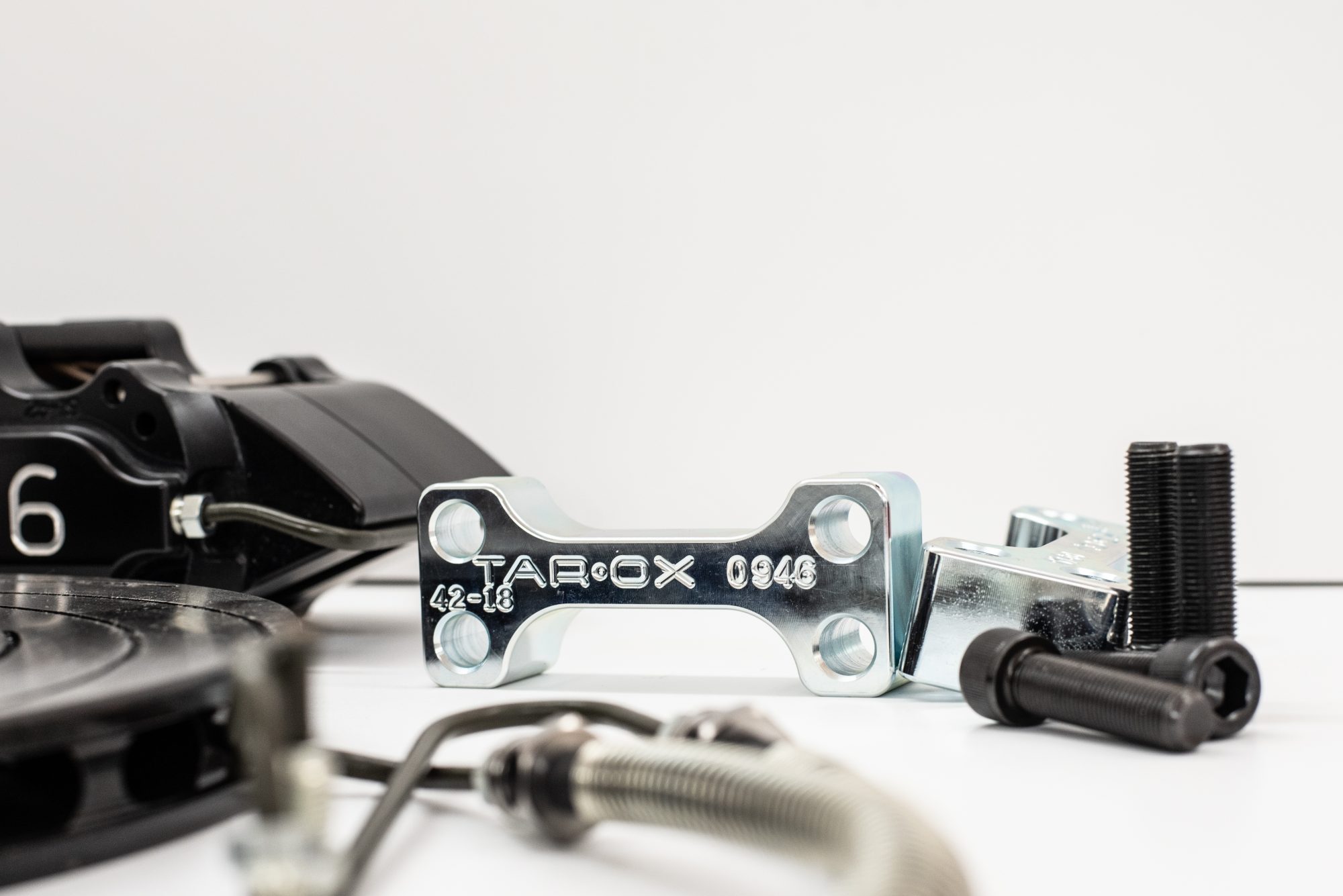 The kits: KMLR0946 & KMLR0947
All TAROX kits are designed and tested on vehicle. The defender kits were subjected to extra testing due to the end user. We then also had kits externally tested at TUV with very impressive results. Kits are supplied with a combination brake line of hard pipe and stainless steel coated flexi lines to ensure a straightforward fitting and OEM finish. Brake pads are installed ready for fitment and a choice of compound can be selected but in most cases this will be our 'Corsa' compound which offers the best balance of performance and comfort. Also included will be hard mounting brackets and hardware.
TAROX have begun working with Arkonik. We were excited to host there first UK build on our stand at Autosport 2020. Project UJO running front and rear kits to help haul down the LS3 V8 powered 110
https://www.arkonik.com/en-GB/news/ujo-revealed-autosport-international/
We can provide fitting and wheel templates to ensure kits fit behind intended wheels. It is worth noting kit KMLR0946 fits OE 16'' wheels without need of a spacer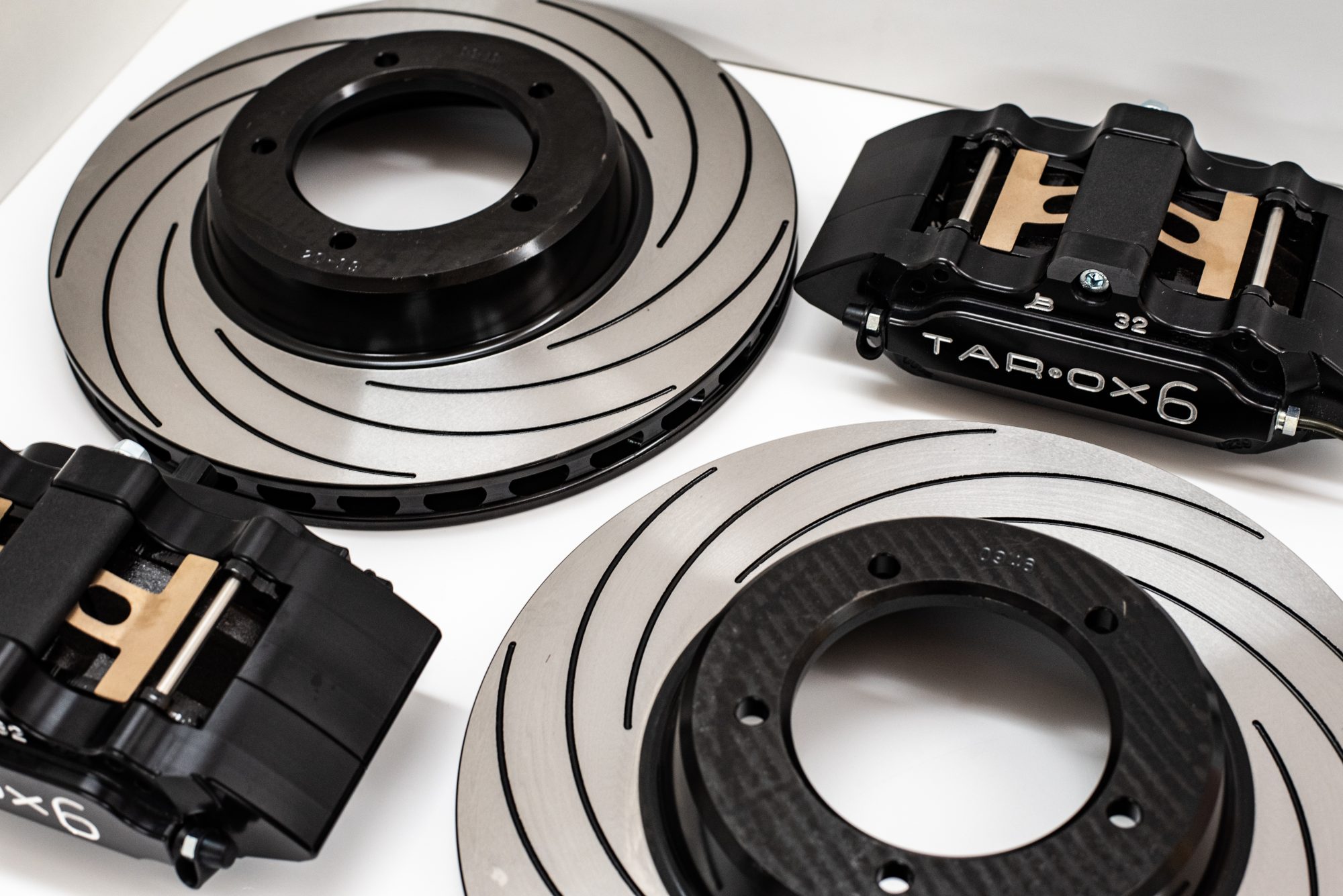 It is worth noting that TAROX brakes systems for Defenders were built around 90 wheelbase vehicles. This is not a problem with later model long wheel base vehicles (2003 onwards) as they share the same axle. Kit KMLR0947 rear kit will fir Salisbury axles but may require movement of the fluid transfer pipe. Kit KKMLR1187 will not fit long wheel base vehicles earlier than 2003.
If you are unsure about fitment please do not hesitate to contact our customer service department help@tarox.com