TAROX Mini JCW breaks cover
The latest MINI JCW hatchback has been part of the TAROX fleet for the past 18 months, all the while we have been busy developing a full suite of braking improvements. Following the successful development of a TAROX 345mm SuperSport brake system our attention turned to replacement parts for the original 335mm 4 piston system.
The braking performance of the stock setup can leave owners feeling near the limit, especially when driving hard. This becomes exaggerated when engine performance is enhanced. To up the stopping performance of the fastest ever production MINI, TAROX developed a two-piece performance brake disc solution. Alongside this a one piece cast performance disc joins the lineup.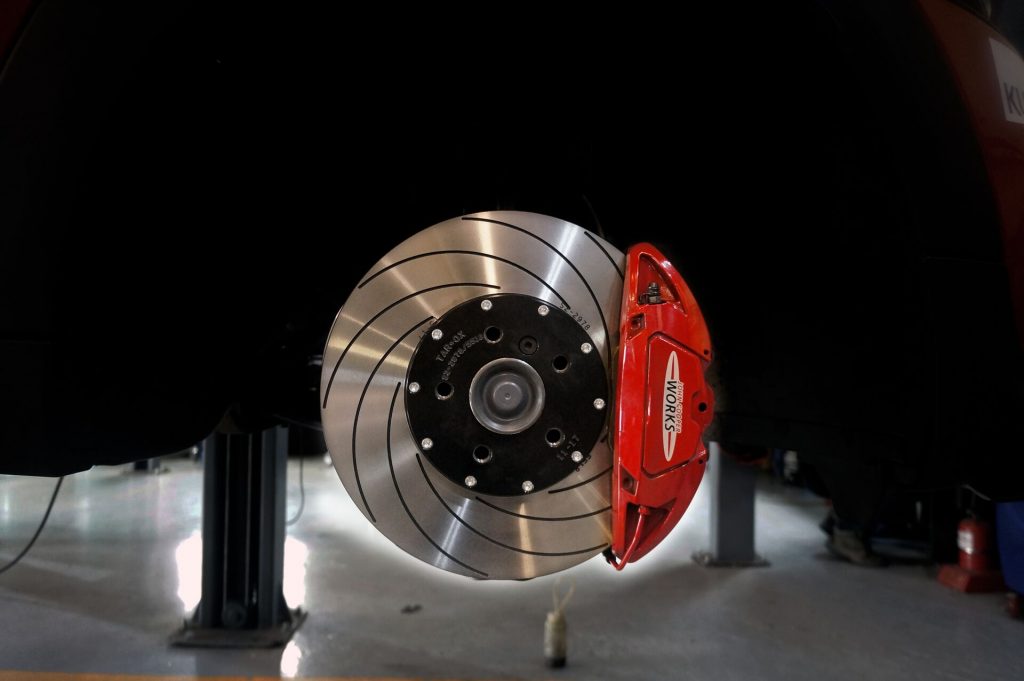 The TAROX two-piece front discs feature an aluminium bell for superior heat dissipation and greater braking performance. TAROX's two-piece performance front brake disc solution features cooling vanes that are specific to each side of the vehicle. The result is much better heat management over the standard discs and increased braking performance and dependability.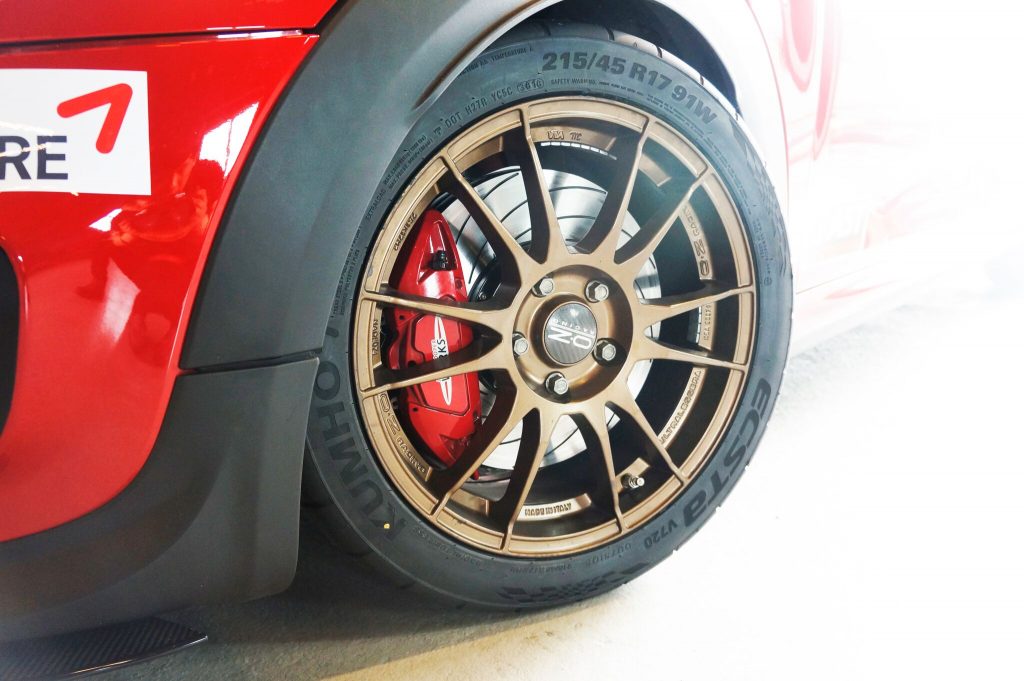 These TAROX two-piece discs are produced from billet and have been designed to have an exceptionally high ultimate tensile strength (UTS) of 57kg per square mm. A typical racing disc usually has a UTS of 38 kg per square mm and the CEE standard states UTC should be a minimum of 25kg per square mm for road use. This means TAROX discs last much longer than standard, especially with spirited driving or if performance brake pads are fitted.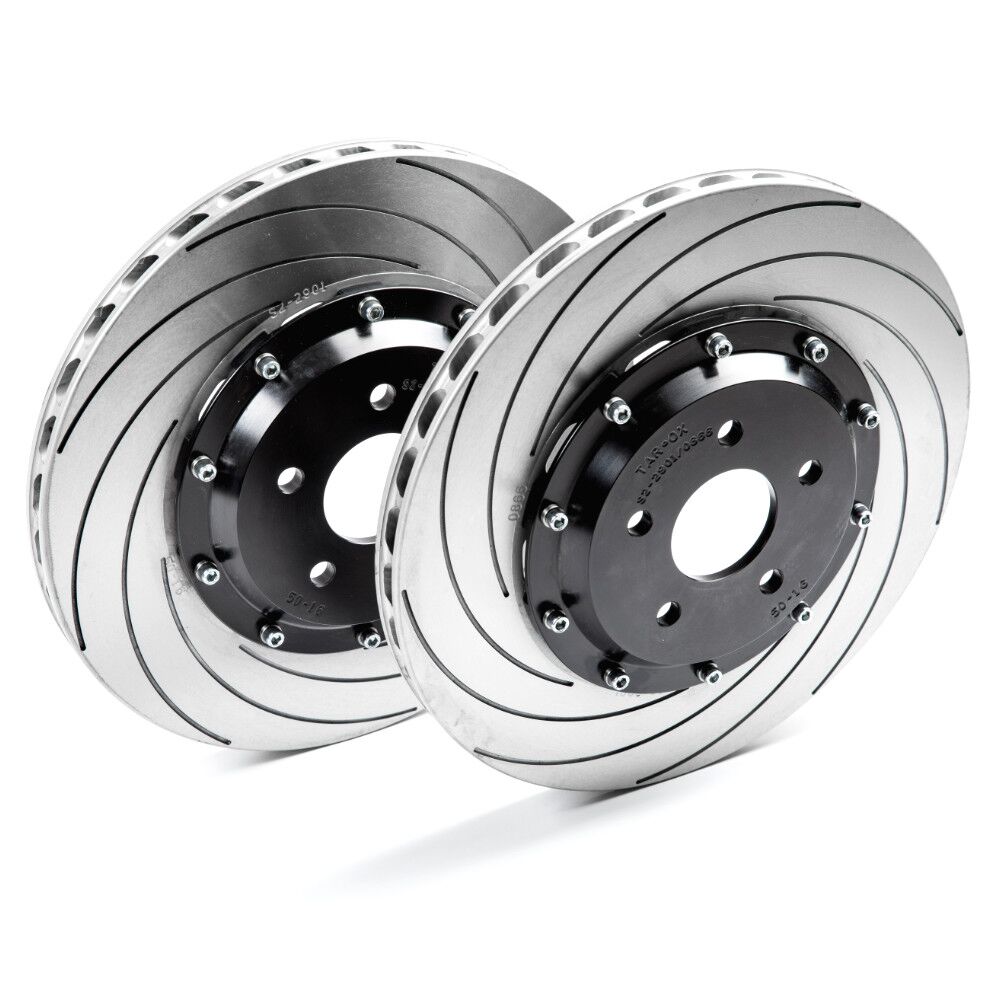 Not only are the new TAROX two piece discs ultra-effective, they actually represent a weight saving over the OE equivalents. Tipping the scales at just 18.3 kg per pair, they reduce crucial un-sprung weight by 3.3kg compared to the OE discs thus having a positive effect on handling and acceleration. Discs can be ordered in either a grooved only F2000 design or the drilled and grooved Sport Japan design and feature the same heat treatment and final finishing processes of the single piece discs.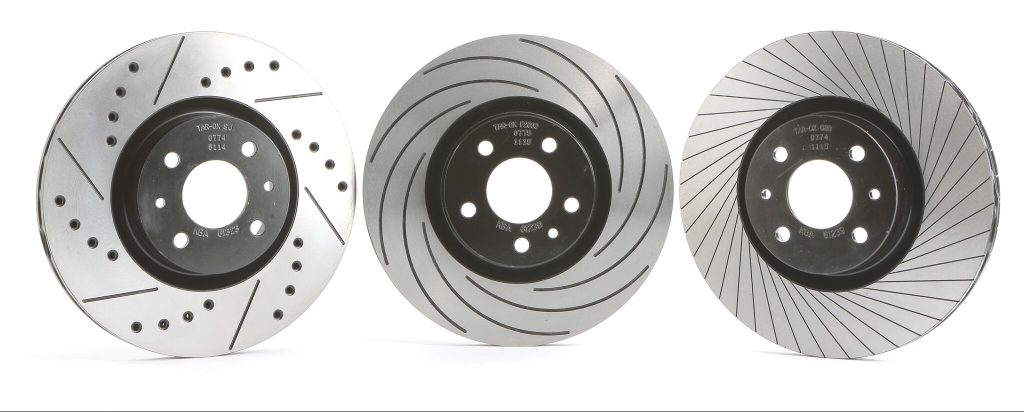 Every TAROX blank cast passes stringent quality controls, are always European sourced, giving the best possible base from which to start applying TAROX's unique processes to improve performance. A Structural stress relieving heat treatment on all brake discs increases heat management capabilities, greatly reducing the possibility of discs warping from overheating. Grooving and drilling options that have been perfected over 30 years, on custom in house machinery are key to dissipating hot gasses and pad material that build up on the braking surface area, allowing the disc to run cooler enabling much greater performance.
The finishing touch is a final (perfect to 0.001mm) hand finish. The process of achieving a perfectly flat surface not only enables the brake pad to bed in quickly and more effectively, but reduces chances of the disc developing lateral oscillation (run out). A
perfectly machined part with a high shine and oozing quality is just the icing on the cake. An anti corrosive protection ensures the quality lasts in tougher climates.