TAROX have developed several racing calipers that provide the solution to virtually any racing application.
…they have progressive feel, tremendous stopping power
and impressive resistance to fade…
Richard Meaden, evo magazine
Individually customizable piston configuration
Configurable to your desired rotor thickness
Beautifully finished as standard with durable hardware
Hand finished, tested and certified to the TAROX standard
Designed, developed and manufactured in-house at TAROX
To help you to choose the most appropriate TAROX calipers there are a few factors to consider. Click the button below to view.
RIGHT CALIPER FOR THE RIGHT ROTOR
Every TAROX Caliper is machined to suit a particular rotor thickness. Our extensive range of brake kits come with suitably machined calipers for the corresponding rotor. For orders that are not a factory kit, it is essential to know what brake rotor thickness the caliper will be used in conjunction with. This determines the characteristics of the caliper and allows TAROX to design the package to be more compact, lighter and with a suitable piston stroke.
TAROX calipers are machined for discs with different pad depths. This is usually 50mm/2″ or 60mm/2.4″. This is an important factor in choosing the right disc and caliper. A larger pad depth can increase pad life but will ultimately weigh more and cool more slowly than a smaller pad depth. TAROX have a wealth of experience in designing brake kits and can advise you on your application.
CALIPER MOUNTING AND HANDING
It is essential that calipers are always mounted in the following orientation:
a) Bleed nipples ALWAYS at the top.
b) Rigid external fluid transfer pipes ALWAYS at the bottom
When ordering the calipers is essential to specify whether the caliper will be mounted in front of the axle (leading) or behind the axle (trailing)
PISTON NUMBER
When the technical rules allow, it is important to consider the correct number of pistons for the application. Some TAROX calipers are available with different piston arrangements to suit particular uses. For example the B360 caliper is offered in a six piston version with larger pistons for greater braking force. This is at a trade off for brake feel and modulation and enables the six piston B360 to be suitable for heavy Paris-Dakar-type long distance competition vehicles. At the other end of the scale a 10 piston version of the B360 caliper is available with smaller piston sizing to give greater pedal feel and sharper activation for lightweight Rally use. For all other situations the standard 8 piston B360 caliper provides a fantastic balance between brake power and pedal feel.
PISTON SIZE
Each TAROX racing caliper may be available with different piston sizes to suit popular master cylinder sizing. If you are in any doubt as to the most suitable piston size for your application our technical department will be happy to advise the best and most efficient solution for your car as part of an integrated braking system.
ANTI KNOCKOFF PISTONS
TAROX has developed a revolutionary new way to help alleviate pad knockoff. TAROX can now offer a magnetic piston option that works without restiction as a lightweight alternative to a spring behind the piston.
SERVO BRAKE
If allowed by the relevant technical rules, TAROX recommend servo-assistance is retained. TAROX calipers are at their best when used with a brake servo. If servo-assistance is not an option, please take into consideration that much more effort is required at the brake pedal.
SERVICING TAROX BRAKE CALIPERS
TAROX calipers are designed to work without servicing. Repair kits and/or spares like pistons, piston seals, bleed nipples, banjo bolts, retaining pins and the external rigid connecting pipe can be ordered at your local dealer or through the contact form on this website. When placing the order it must be indicated which caliper model and the piston size you are referring to. It is advised that only experienced professionals dismantle the calipers for service.
CALIPER COLOR
All TAROX racing calipers come with an exceptionally hard black satin (approximately 450 wickers) anodizing for fantastic durability.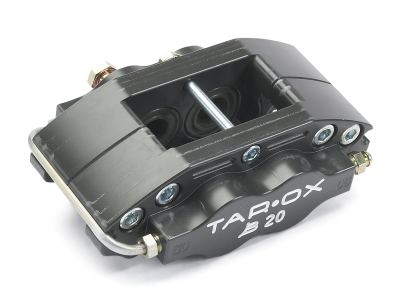 •

B20-4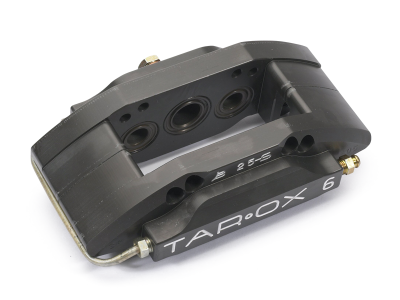 •

B25S-6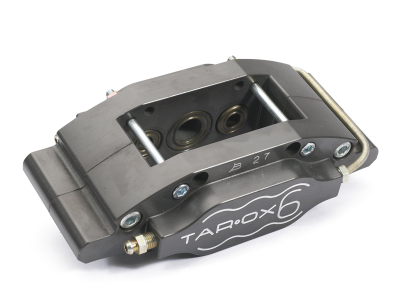 •

B27-6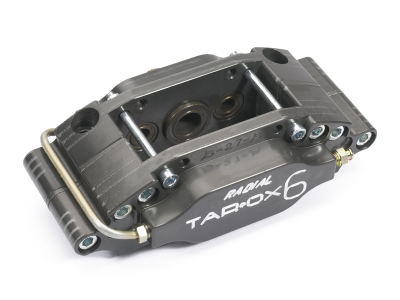 •

B27-6 radial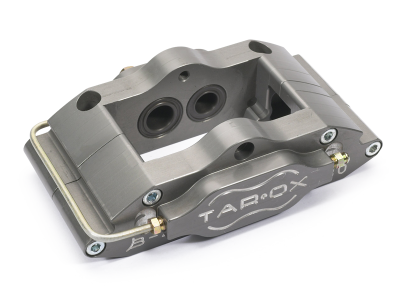 •

B280-4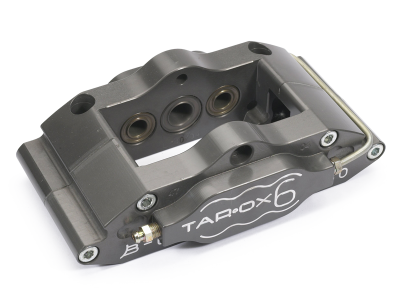 •

B280-6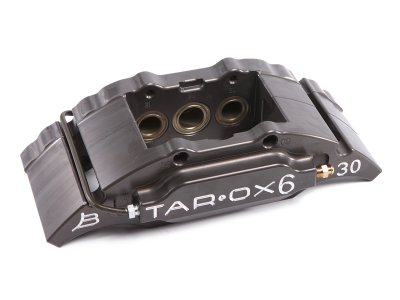 •

B30-6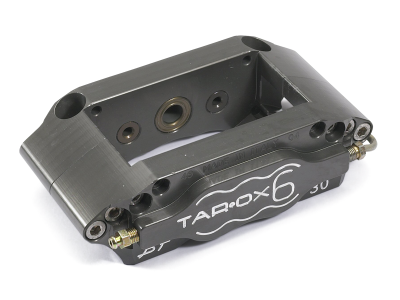 •

BF30-6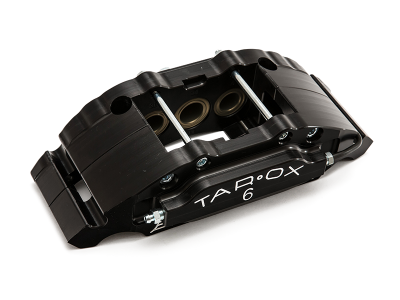 •

B310-6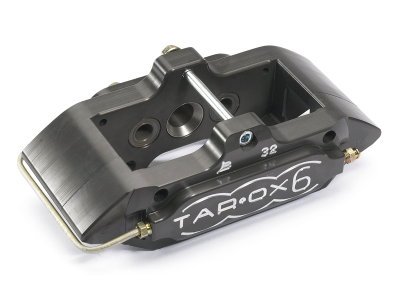 •

B32-6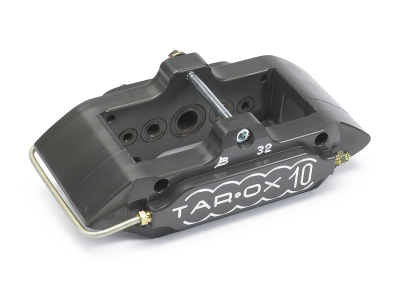 •

B32-10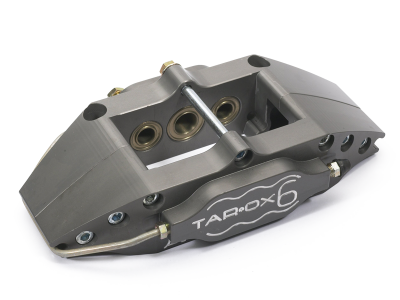 •

B320-6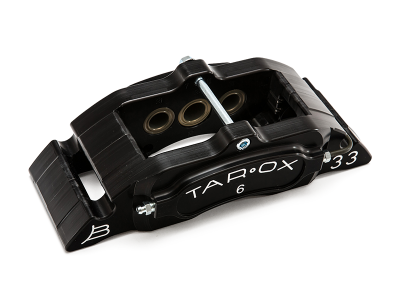 •

B33-6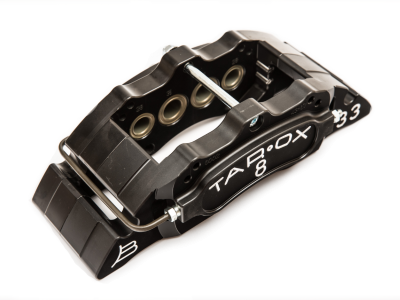 •

B33-8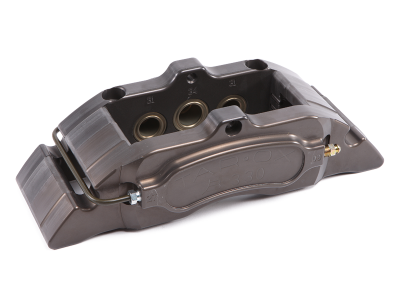 •

B330-6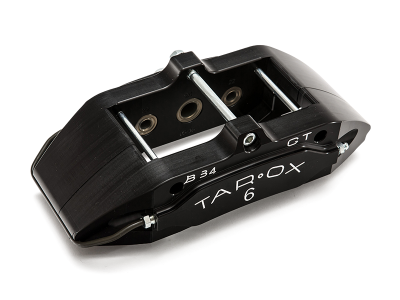 •

B34GT-6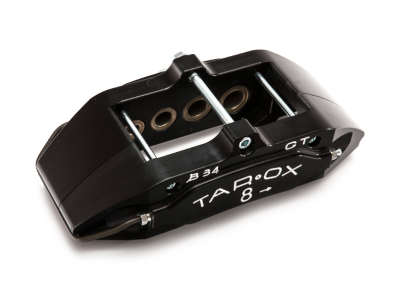 •

B34GT-8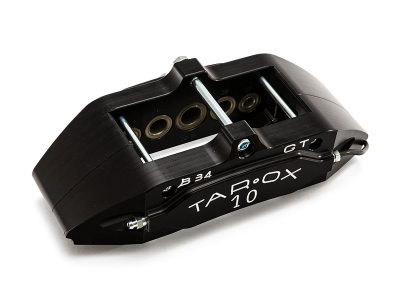 •

B34GT-10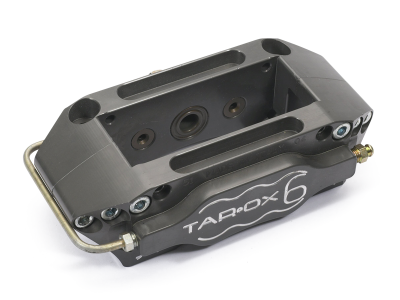 •

BF34-6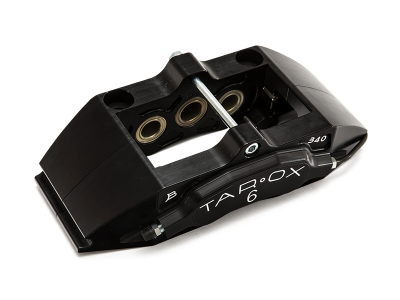 •

B340-6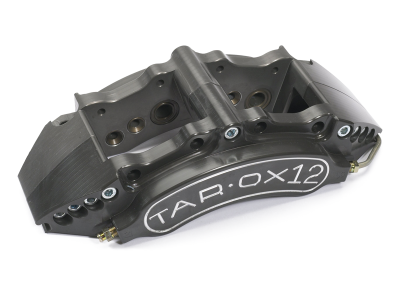 •

B350-12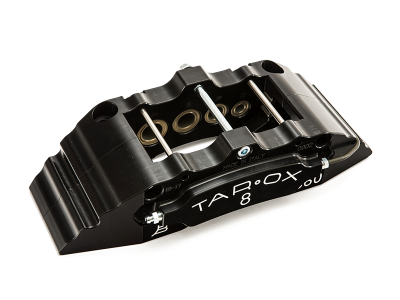 •

B360-8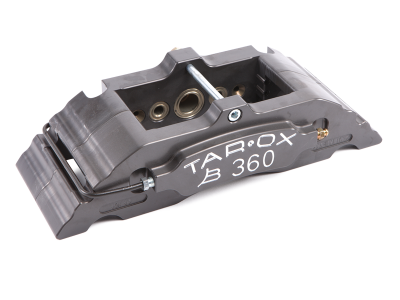 •

B360-10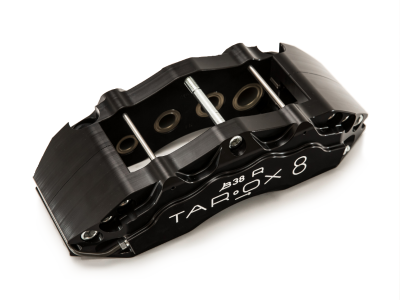 •

B38R-8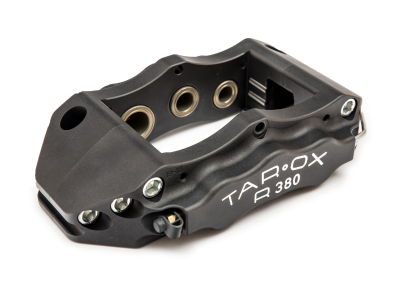 •

R380-6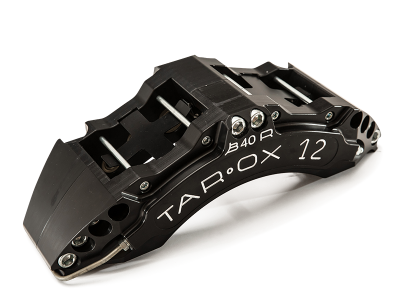 •

B40R-12